SERVICE BULLETIN
| Classification: | Reference: | Date: |
| --- | --- | --- |
| EL15-032b | NTB15-099b | September 6, 2016 |
SERVICE INFORMATION FOR DTCS C1A12 AND C1A16
This bulletin has been amended. The APPLIED VEHICLES section has been revised, a photo has been added to page 4, and ICC/distance sensor location information for Maxima and Rogue has been adjusted. No other changes have been made. Please discard previous versions of this bulletin.
SERVICE INFORMATION
As part of the diagnosis for DTC C1A16 (RADAR BLOCKED) that is stored in an APPLIED VEHICLE, be sure to check the following:
Check the ICC/distance sensor lens or the bumper fascia in front of the sensor (see pages 2, 3, and 4). Remove any obstructions, including any clear bra or film, and clean off any stains (mud, dirt, road debris, dirty rain water, etc.), and then verify proper system operation.
As part of the diagnosis for DTC C1A12 (LASER BEAM OFFCNTR) that is stored in an APPLIED VEHICLE, be sure to check the following:
Inspect the bumper fascia in the area in front of the ICC/distance sensor (see pages 2, 3, and 4).
Check for stains and/or physical damage (for example, mud/dirt, road debris, dirty rain water, scrapes, punctures, misshapen surface).
If there is physical damage but not severe, clean the area in front of the ICC/distance sensor, perform an ICC/distance sensor alignment using CONSULT-III plus (C-III plus), and then verify proper system operation.
If an ICC/distance sensor alignment is not successful, inspect the ICC/distance sensor bracket for damage (see page 5).

If damaged, replace the ICC/distance sensor bracket, and then perform an ICC/distance sensor alignment again.
If the above information does not resolve the issue for either DTC, refer to the Electronic Service Manual (ESM), section CCS-Cruise Control System or DAS-Driver Assistance System (as it applies), for diagnosis of the stored DTC(s).
NOTE: The Nissan New Vehicle Limited Warranty does not cover incidents due to lack of vehicle maintenance and/or physical damage. Refer to the Nissan Assurance Products Resource Manual (APRM) for guidelines on warranty coverage. The vehicle owner's manual contains the complete details regarding the limited warranty.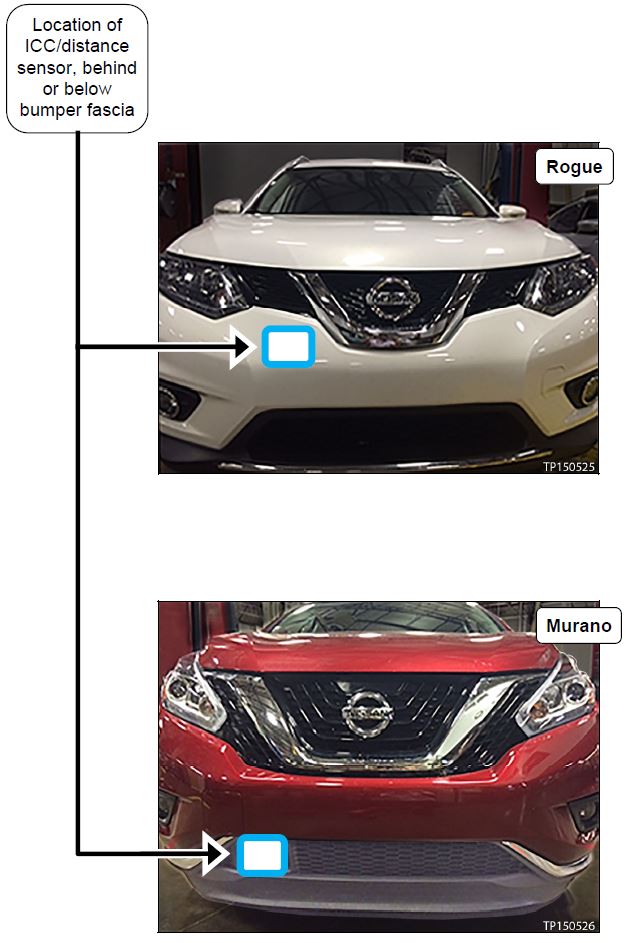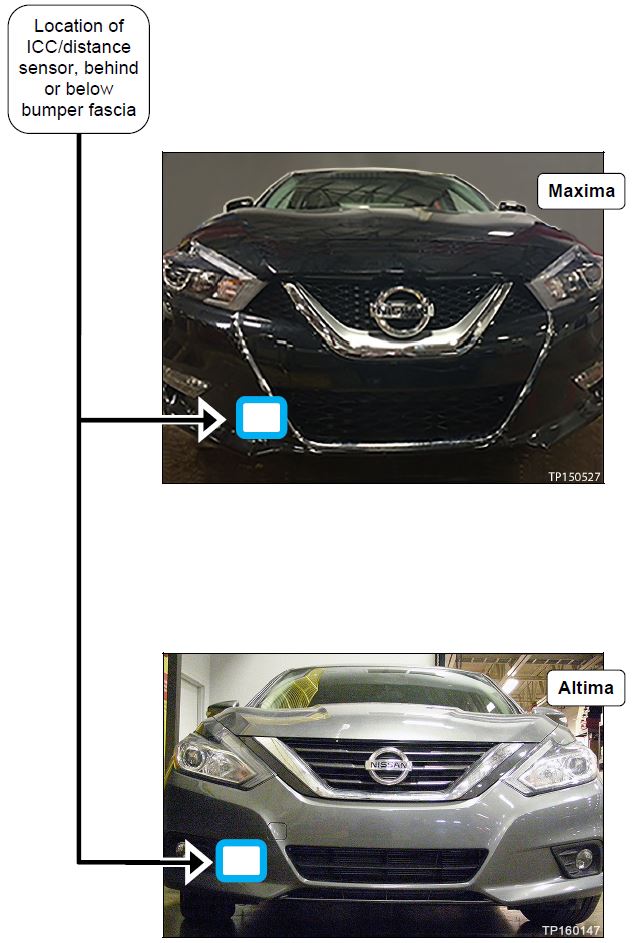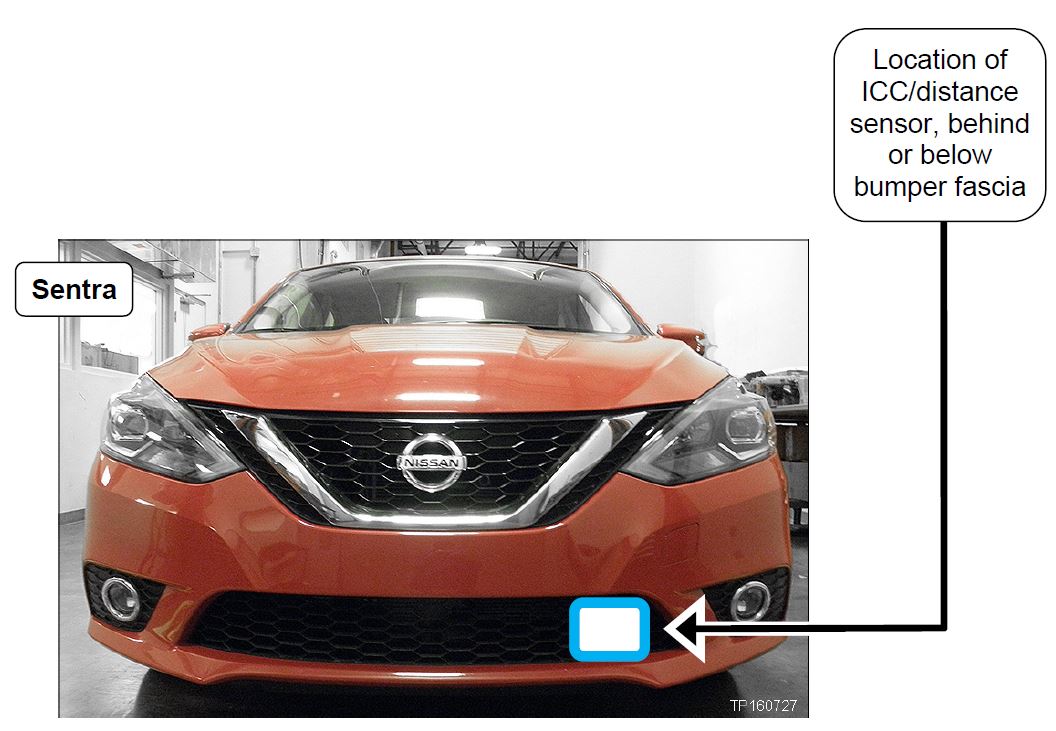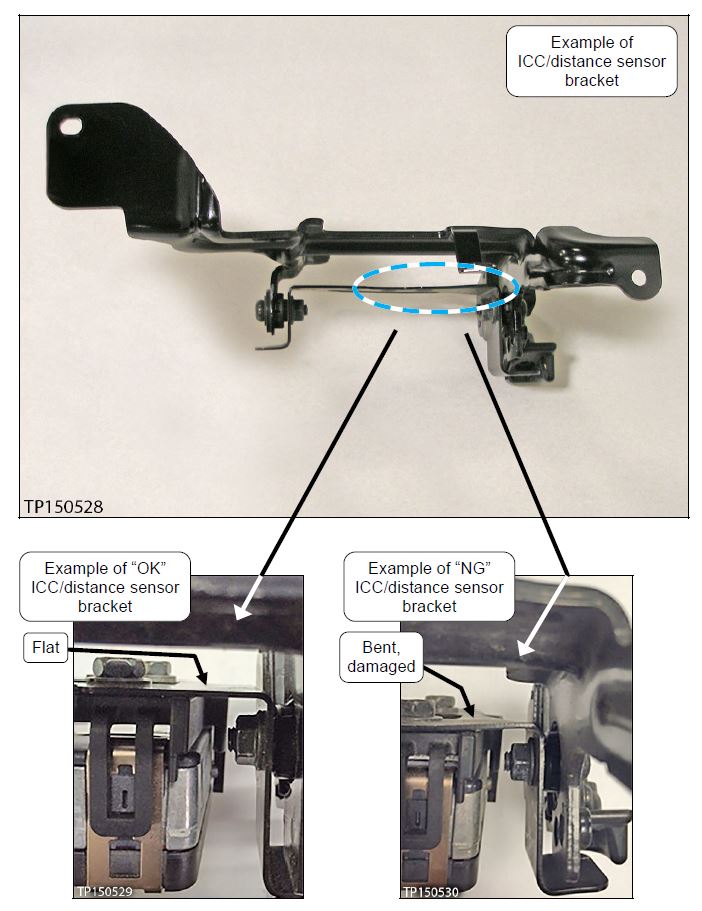 ---
NTB15-099b
https://www.nhtsa.gov/recalls?nhtsaId=10091586
https://static.nhtsa.gov/odi/tsbs/2016/SB-10091586-2280.pdf
---
Bestseller No. 1
Autel MaxiCOM MK808 Automotive OBD2 Scanner (Combination of MaxiCheck Pro and MD802 All Systems) with Oil Reset, EPB, BMS, SAS, DPF, TPMS and Immobilizer
Advanced functions: Read/clear codes for all available systems ( including engine, transmission, ABS and AIRBAG ), Bi-directional control ability, Support auto bleed test, Forced DPF regeneration and adjusting injectors, Relearn parking brake pad after replacement (brake reprogramming), IMMO functions (key configuration)
Superior features: Relearn/ reset throttle body positions, Reset Steering Angle Sensor (SAS, steering wheel calibration), Reset service mileage and service intervals, TPMS sensor relearn, Battery registration and reset, Reading automatic gearbox, Shows the vehicle's operation graphs, Adjust idle/ Relearn idle, Cycle the abs system to evacuate air, Bleed ABS pump/ ABS bleeding brake
Cost-effective: The automotive diagnostic scanner supports basic TPMS Service (Tires Pressures Monitoring System), including displaying sensor IDs from vehicle's ECU, inputting TPMS sensor replacement IDs and registering sensors to vehicle
Extensive vehicle coverage: More than 80 US, Asian and European vehicle makes after 1996. Smart AutoVIN technology for identifying vehicles easily
Warranty & update: 12-month warranty and 12-month free online update. Automatic system and software updates with real-time push message notifications via Wi-Fi
Bestseller No. 2
Autel MaxiCOM MK908P Diagnostic Scanner Automotive Scan Tool with ECU Programming and J2534 Reprogramming + Free Oscilloscope MaxiScope MP408
【SUPERIOR CODING & PROGRAMMING】 Supports coding and programming especially for BMW and Mercedes. With the VCI of MK908P for SAE J2534-1 and J2534-2 protocols, it can replace the existing software and firmware in ECU without expensive original equipment.
【WIDE DIAGNOSTIC SOLUTIONS】 Well capable of VCM coding and programming, TPMS coding, intelligent cruise control (ICC), ECU coding, live data, dashboard matching, airbag system reset, anti-theft key matching and more.
【POWERFUL DIAGNOSTIC TOOL】 The oscilloscope MP408 combine with MaxiCOM MK908P is able to measure and test virtually all the electrical and electronic components and circuits in any modern vehicles, providing you an insight to the inner workings of a vehicle's electronic circuits.
【HIGH-EFFICIENCY OF USE】 Being MS908P upgraded, it is Autel's latest and most sophisticated diagnostic scanner which boasts the best hardware including Hexa-CPU, 2GB RAM etc. for fast boot-up and multitasking, and the ergonomic design to resist damage of heavy use.
【WARRANTY & UPDATE】 You can get quality related services within 12 months warranty, besides, 12 months free online update is available for the latest bug fixes and newly added parameters and car models.
Bestseller No. 3
Autel Maxisys Pro MK908P(MS908P/MS908SP) OBD2 Diagnostic Scanner For ECU coding, Active Test, J2534 Reprogramming (Same as Maxisys Elite, Upgraded Version of Maxisys Pro) With Free Car Battery Tester
🚗ECU PROGRAMMING: This Diagnostic scanner comes with a SAE J2534-1 & -2 compliant PassThru reprogramming interface device which allows you to use the updated OEM software to replace the existing software/firmware in ECUs, programming new ECUs for Benz/BMW and fixing software-controlled drivability issues and emission issues. We welcome you to contact [email protected] or ask through Q/A for your specific need.
🚗SUPERIOR HARDWARE: The Maxicom MK908P is a upgraded version of the Maxisys Ms908P/Pro,it with Android4.4 based system amd super-fast hexa-core Processor, 2GM RAM, 64GB On-board Memory, 8.0 Megapixel rear cam, ultra-clear 10.1 inches LED screen etc.
🚗COMPREHENSIVE FUNCTIONS: Autel MaxiCOM MK908P performs the same function as Autel Maxisys Elite, Autel MS908S PRO, MS908E, and provide better price. this superior diagnostic device is awarded as the Best Vehicle Diagnostic Tool in Britain.12-month free updates,basic functions could still be used without updates.
🚗WIDE VEHICLE COVERAGE: Extensive OE-Level vehicle coverage for more than 80 US, Asian and European vehicle makes.It's an ultimate car scanner for DIYers, experienced mechanics, even garage to finish professional-level vehicle repair and maintenance. To check compatibility, contact [email protected] or ask through Q/A, we will reply you in time.
🚗Multi-ADD ONS:This Autel Scanner could connect the Oscilloscope-MaxiScope MP408 and Digital Inspection Cameras for vehicle's electronic test or get the sight in the tight spaces. We offer you a free ArtiBattery101, making you easily get the Battery Test Results. This car battery Tester is recommended by Soctty Kilmer and BestReviews. It can directly detect the battery data and give suggestions on whether to replace the battery. It also has cranking test and charging system test.
Bestseller No. 4
Bosch Automotive Tools 3970 Diagnostic Scan Tool
Full system coverage for Domestic, Asian and European vehicles covering all makes/models
Robust and versatile tool provides complete diagnostics including: Auto ID VINs, read all DTC types from all controllers, view data PIDS, perform bi-directional controls, calibrations, resets, relearns, and more
Wireless VCI allows for freedom to move anywhere in the bay and stay connected to the vehicle; industry leading full color wiring diagrams simplify tracing and troubleshooting
J2534 pass-thru hardware expands your diagnostics into programming; built-in Wi-Fi and Firefox provide full browsing capabilities
Ultra-crisp 10" high-resolution display for optimum viewing in all lighting conditions; 5MP cameras front and rear allow photos for sharing and inclusion in vehicle scan reports
Bestseller No. 5
ANCEL FX6000 OBD2 Scanner with All System Automotive Code Reader Vehicle OBDII Diagnostic Scan Tool for Engine ABS SRS Transmission DPF TPMS EPB IMMO ECU Programming & Coding
ADVANCED ECU CODING & PROGRAMMING - Exceptional functionality diagnostic tool from comprehensive OBD2 scanner diagnostics & services to advanced ECU coding and programming. Just connect the scanner port directly to the OBDII DLC in your vehicle and no need any battery or charger
COMPREHENSIVE DIAGNOSTIC FUNCTIONS - This obdii scanner can give a overall checking of the vehicles, diagnose on both Diesel and Gasoline vehicles, including Engine Transmission ABS SRS (Airbag) EPB Oil service reset SAS Steering Angle TPMS IMMO and Other diagnostic systems
OBD2 DIAGNOSTIC - This vehicle code reader supports all 10 OBDII test modes, it can scan more than 95% domestic old vehicles for view live data (in text/graphic format), read freeze frame, read and clear history or current codes, O2 sensor test, I/M Readiness checking that can quickly test every system module status and faster diagnosis and maintenance
EXTENSIVE COVERAGE & MULTI-LANGUAGE - Works on MOST 1996 US-Based, 1996 EU-Based and 1996 Asian-Based cars or newer OBD II/Eobd & CAN domestic or import vehicles, this automotive scanner supports English, Russian, Spanish, Polish,Dutch, Portuguese, German, French, Korean
FX6000 OBD2 scanner is well built with a large and high-definition TFT screen, easy-to-read UI and thousands of DTC tips. The unique FN hot key allows custom your own Favorites on the main menu for the next car testing directly. TWO YEARS free update online to fix the latest bugs or add newer parameters
Sale
Bestseller No. 6
Sale
Bestseller No. 7
OTC 3896 Bosch Evolve Diagnostic Scan Tool
LARGE, BRIGHT DISPLAY: Rugged, 10.4 inch screen is the industry's largest and brightest
WIRELESS CAPABILITIES: Dual Wi-Fi architecture provides a secure, wireless VCI connection and reliable Internet connection. Move freely around the vehicle and shop with confidence
WIRING DIAGRAMS INCLUDED: Includes full system wiring diagrams, not offered on any other scan tool in the market
IDENTIFIX FREE TRIAL: 60-day Identifix Direct-Hit free trial
J2534 COMPATIBLE: J2534 compatible device for emissions-related ECU reprogramming and reflash
Sale
Bestseller No. 8
Autel MaxiDAS DS808K (Upgraded Version of DS708,DS808) OBD2 Scanner Code Reader Diagnostic Tool KIT Tablet Full Set Support Injector Key Coding with Autel Professional Carry Case
☛Check the vehicle coverage before order☛:Please email OBDPRICE back▲[email protected]▲ by offering your detail car model, year, VIN and what functions you need to check the compatibility before order, you will get the available solution in 12 hours. Tips: This OBD2 scanner with a 12-month free online update. Feel free to get technical support from us.
Cover 23 Special Services Function: Airbag Rest, Oil Reset, SAS Calibration, Tran Adaption, Reset parking brake pads after brake system replacement, DPF Regeneration, Battery Registration, TPMS Relearn, ABS brake bleeding, adjusting injectors, Key Fob Programming for Special Vehicles.
SUPERIOR & EFFICIENT SYSTEM: Based on the Android operating system, and features a fast quad-core processor, provides extensive coverage of OE-level diagnostics for maximum efficiency when doing deep diagnostic scans and car trouble analysis.
Auto VIN technology can automatically identify the vehicle's make, model and year information in no time. Display live data in text, graph & analog for easy data review. Relearn parking brake pad after replacement. Cover more than 80 US, Asian and European vehicle makes after 1996.
The tool includes a lot of active tests and special functions, fuel injector/fuel sync/monitor misfires/battery registrations/ graph real-time sensors/see crankshaft and camshaft position signals/ functionality test / PCM, TCM, body module, ABS, airbag and overhead console as well as to use some bidirectional tests for Special Vehicles.
Bestseller No. 9
Bosch Automotive Tools 3925 Diagnostic Scan Tool
Full system coverage for Domestic, Asian and European vehicles covering all makes/models
Robust and versatile tool provides complete diagnostics including: Auto ID VINs, read all DTC types from all controllers, view data PIDS, perform bi-directional controls, calibrations, resets, relearns, and more
On-tool and online repair information: confirmed fixes, maintenance procedures (brake/battery/TPMS/tune-up specs/other), component locations, key reprogramming, TSBs, etc.
Ultra-crisp 7" high-resolution display for optimum viewing in all lighting conditions; 5MP camera on the rear of the tablet allows technician to take photos for sharing and inclusion in vehicle scan reports
Built-in Wi-Fi and Firefox provide full browsing capabilities
Bestseller No. 10
Bosch EL-52100-AM GM Multiple Diagnostic Interface 2 (MDI 2) Kit
Wireless connection - simple plug and play configuration Upgraded support includes 802 11bgn
High Speed USB 2 0 Connection with improved protection and faster performance
Improved stability during engine crank with extended temperature range
Enclosure design protects from exposure to fluids and drops
Additional vehicle communications protocols include upcoming Global B vehicles with faster data buses SAE J2534 and ISO-22900 compliant
Last update on 2020-03-30 / Affiliate links / Images from Amazon Product Advertising API
Last update on 2020-03-30 / Affiliate links / Images from Amazon Product Advertising API